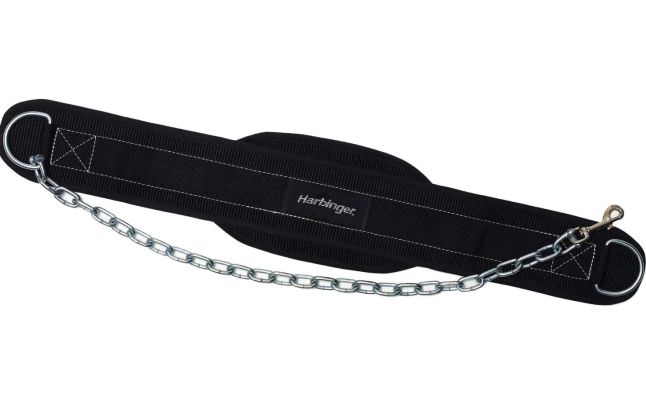 There are not many things I recommend as far as gym gear goes. However, there is one key thing that every weightlifter needs in their arsenal of supplies. That my friends is a solid belt for weighted dips and pull-ups. I will give you the full rundown on the Harbinger PolyPro Dip Belt that I use almost every single day and hopefully you will have a better idea of whether or not it's worth the investment.
There will come a time in every serious lifter's life that they can push or pull far more weight than what they have naturally attached to their body. This creates the need for a dip belt, vest, ankle weights, etc. I'm a huge proponent of keeping things simple. There is a wide variety of options out there when it comes to adding weight to your workouts, but I personally prefer the belt.
There are some key criteria when it comes to choosing a belt that I use, and I will discuss how the Harbinger PolyPro Dip Belt meets all of these expectations.
---
1. Durability
Durability is by far the most important aspect of any gym equipment you are purchasing. You never want to invest in something that will only last you a couple months and break. That's why I go after products that are proven to last. I have stated the same before with regards gym shoes, nutritional blenders, gym chalk, and really anything else I have reviewed. It's important!
How does the Harbinger PolyPro stack up to other belts in terms of durability: 
I have had mine for around a year and a half now and it's in the best shape imaginable. I use it literally almost every day and have zero issues with the chain breaking, fabric wearing out, or anything along those lines.
Some other belts are not woven with the same method that the Harbinger manufacturers use and I've seen them with frayed edges, ripping, or broken and repaired chains.
The polypropylene tensile strength (strength that it has to resist tearing or shear forces which are in abundance when you hang a ton of weight from them) is pretty high at around 36MPa if you care, making this the ideal material for something that will be heavily stressed.
I'm not the only one that swears by the durability of the belt. I have seen numerous belts, coated in chalk, sweat, blood, and whatever else comes about from lifting that are easily a couple years old have no signs of damage showing. Every time I ask someone in the gym how they feel about it I get the simple "It's great."
In addition to being able to withstand tearing, the chain on this thing doesn't break.
The biggest trouble I could see you having is with the carabinar (the thing that connects back to the chain after you loop it through your weights). If this were to break, however, it is a quick $1-2 fix at your local hardware store or outdoor store that has any sort of climbing gear.
I personally have never broken one myself, but I could see how it's possible. It's really no reason to scrap the belt completely though.
If your looking for durability I would say that this belt is the go to for you.
---
2. Convenience
In the gym I am looking for convenience. The last thing you need to worry about is trying to rig something up that is extremely complicated. There are options out there with screw shut links for the chain portion of the belt or even worse, velcro. Yeah, I don't have any idea who would trust velcro to hold up 90-135 pounds 4 feet off the ground either.
Is The Harbinger PolyPro Convenient?
The convenience of the Harbinger PolyPro Dip Belt is second to none. You slide the chain through the alternate side of the belt, go through the middle of your weights and hook it back to the chain using the carabiner. It really doesn't get any more simple than that, folks.
Packing it away and toting it around is easy as well. Sometimes weighted items with large, bulky shapes can force you into carrying a larger gym bag, but if you are a backpack person like me you will likely be going for easy transportation. The PolyPro, over the leather options out there, is very malleable and comfortable so it's easy to fold up and throw in your bag without breaking down the material too badly.
---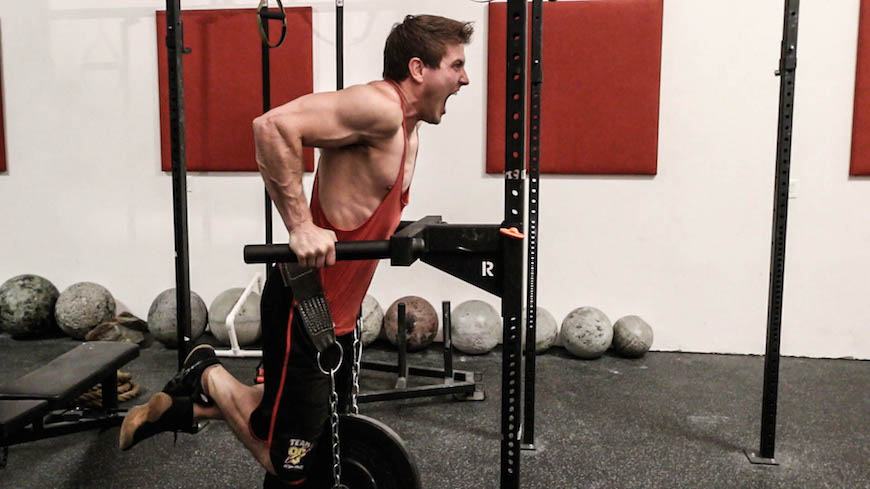 3. Flexibility
It's important that I can use this belt for pullups, dips or anything else that I may need to attach weight to myself for. Quite often I've seen weighted vests that work for really any application, but they are lacking the ability to go extremely heavy.
I know there are many people out there that need much more than lighter weighted vests can offer, and while vests usually have the option to pack them full of more weight or remove weight as needed, I prefer them for running and pushups only. Many vests out there max out at around 110 lbs and I know there are some occasions where I've seen people using 135.
If you outgrow the maximum weight of your vest you end up paying more for an additional vest that turns out to be unnecessary. With a dip belt, you can choose to add or remove as much weight as you need and not worry about losing that weight since you are using the plates provided by your local gym.
Really these two items just are to be used for different purposes.
---
4. Cost
Oh the big dollar signs. Belts are cheap. You can snag a Harbinger PolyPro Dip Belt for under 30 bucks especially if you have Amazon Prime and free shipping. There are belts out there for slightly cheaper, and there are leather belts out there that are more expensive. However, for the price, the Harbinger is without a doubt the best constructed.
Personally my $30 has paid off time and time again as this belt allows me to get in a full workout without worrying about the chain breaking, fabric ripping, or adding or pulling off weight in a timely manner.
---
Would I suggest the Harbinger PolyPro?
Most definitely. Like I said in the beginning I am not huge on suggesting things, but if it's a quality product that will last a significant amount of time and it is a must-have for the gym, then I hope to be able to help guide people down the right path.
It's a low cost solution that can last you for years.
You can buy it at most of the main chain gyms, a sporting goods store, or you can click the banner below to buy on Amazon.

If you do buy it and you hate me because you don't like it, feel free to come back to this article and yell about it in the comments. I have thick skin, I can handle it.
Overall I would rate it an easy 4.5/5 which is pretty consistent with it's rating on any vendor sites out there.
Thanks for reading!