Background:
I have gone through a ton of gym shoes in my time. So many in fact that I can't count them on two hands. Usually the rate of gym shoe turnover is pretty high, and this is because most people are EXTREMELY hard on their gym shoes, as you should be!
Recently I took it upon myself to try out a few different types of shoes in the gym to see what really grabbed my attention and felt the most comfortable, but also contributed to maximum performance in the weight room.
There's an advantage to having the best gear, no it's not to look the best, I am really passionate about the gym not being a fashion show, but having the right workout equipment is important because it can help prevent injuries and allows you to naturally achieve good form while lifting, running, etc.
To be fair, there are many shoes that I really enjoy for specific lifts, and I'll go more into detail on those in later posts. However, this post is all about the best shoes for lifting, running, and any other sort of training you may do.
I've heard a lot of rumors around the web on the best shoes for squats, the best shoes for running, but the one thing that these reviews are all lacking is the idea of an all-around shoe.
I personally am the type that likes to be able to wear the same shoes squatting as I do to walking to the gym, and you can't really do this when you buy an expensive pair of squatting shoes. While they have their purpose, it's not every purpose.
What are the best shoes for everything you want to do in the gym?
Okay so I tested out the newest version of all the top brands claim to fame all-around gym shoe. I think you'll be surprised at the result.
Nike Free Run: 2016 Model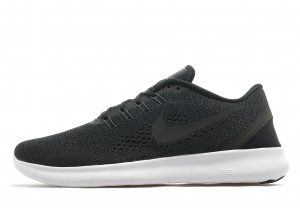 The Nike Free Run was the first shoe I wore religiously. At first I enjoyed it. After all, I had the older version with the sock tongue and it fit my foot well, gave me a decent amount of control, and was only slightly lacking when gripping the floor.
Things I like:
I will give Nike credit here and say that I think this is probably the most stylish of the three shoes that I chose for this review. But, when I slipped my foot into these they were soft. Soft is fine if you are running on hard surfaces, I understand the shock absorbent technology in place to reduce the strain on your knees, but this isn't ideal when performing compound lifts or agility exercises.
Things I don't:
My problem with these shoes was squatting, and cutting from side to side. The side walls of the free runs didn't have the support I was really looking for. In addition, squatting in these shoes pushed me forward onto my toes really ruining my squat form. I really am a firm believer in proper squat form even if it means you're lifting 100 lbs less. If you can't lift the weight hitting the floor and staying planted on your heels then you shouldn't be lifting that heavy.
That's why the Free Run falls short of being my number 1 all around. Verdict: Steer clear of the Free Run for anything but it's primary design (running). Even then I would consider other options before Nike's primary runner. In addition, these started to fall apart pretty quickly.
Reebok Crossfit Nano Training Shoe: 2016 Model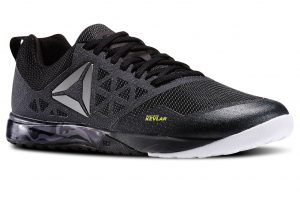 Next I gave the Reebok Crossfit Trainers a shot. These are a bit pricier than the Free Runs I picked up and come in around $130 for the newest version on the market. If you go with last year's edition they come in around $80 bucks, more comparable to the newer Free Run.
Things I like:
These shoes have an extremely solid base. Great for squatting and compound lifts like cleans, deadlifts, snatches, you name it. The side walls were pretty stout as well, not much movement when the force of the lift tried to drive you off balance. This allows you to stay planted and really explode when performing lifts. I would attribute most of these good qualities to the fact that they are made with kevlar. This allows these shoes to hold up under the stress and strain of heavy lifting quite well.
Things I don't:
The soles are a bit hard for what I'm looking for. I personally walk or light jog around a mile and a half to the gym every day and then another mile and a half home. The last thing I want to feel after a nice hard leg day is sore feet from my shoes. Verdict here: Great shoes for lifts, not great shoes for the walk/jog/aerobics. Also, coming in at the highest price of the three I reviewed, I wouldn't say the bang is worth the buck here.
New Balance Minimus: 2016 Model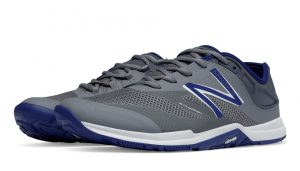 I'm shocked to say this but I put my support 100% behind the New Balance Minimus. I've personally been through two pairs of these now and their technology is actually improving.
Things I like: 
This is honestly overwhelming how many good qualities this shoe has. First off, my foot fit in these things perfectly, and the shoe felt tight when laced up. I think that the burrito tongue on the newer model sucks the shoe into your upper foot a bit more giving you a better sense of support for side to side movements.
So I felt confident enough in these after putting them on to jog down to the gym. The jog felt great, the soles are just soft enough that they don't really pain your feet. I'm not encouraging you to become a distance runner in these bad boys, but for your daily 5-10 minute jaunt down the block they'll take care of business.
The sidewalls are also well constructed allowing you little to no movement when throwing heavy weights around. They naturally drop you onto your heels much like the Reebok Crossfit Nano but it doesn't feel forced or awkward. This allowed me to really drive through my squats with good form.
The soles of these shoes are absolutely phenomenal. I know Vibram soles get a bad rap generally in the lifting community, especially when accompanied by the individual toe slots that they are so famous for. However, the integration of these soles in the New Balance Minimus couldn't have been done better. They really do grip any gym surface including the wooden platforms I was using. This didn't allow my feet to slide all over the place or cause distraction from my lifts. I was able to fully focus on putting up as much weight as possible.
Lastly, the price point is very enticing. They come in at the cheapest of the three shoes (depending on color) at around $60-80.
Things I don't like:
My first pair did not take the abuse I put them through as well as I would have liked. Now while I was able to hammer them pretty hard and used them every single day for almost a year I could definitely tell exactly when they started to break down. In addition, the natural wear point was in the toe.
I do have to give them the benefit of the doubt though and blame it on me leg pressing and overexerting the toe portion of the shoe quite often. Also, the newer version seems to be a bit better reinforced in this area, so maybe these will be longer lasting.
Conclusion:
If you are looking for the best shoe to wear for pretty much everything you are going to do in the gym, whether it be a light jog for warming up, doing some quick wind sprints with your buddies, or throwing around some heavy weights on the platforms I would say that these are the go to training shoe for all of your needs combined into one.
If you want to try them out for yourself go ahead and click here.
If you own any of these shoes yourself, have an alternative suggestion, or would like to ask me more about my experience with each, please leave me a comment below and I will respond personally!