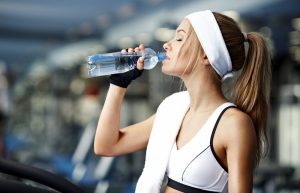 I'm sure you've wondered… What is the best water bottle for the gym?
You're not the only one! I wondered this for a long time and eventually found my soul mate, my holy grail, my go-to water bottle. Now even though I found mine, you may have different preferences. After going through a lot of water bottles I realized there were a few I kept coming back to. Those three were the Blender Bottle, the Contigo, and the Hydro Flask. The Hydro Flask quickly became my favorite and I never looked back. But I'm here to give you my thoughts on all three.
---
The Blender Bottle:
I don't really want to take anything away from The Blender Bottle, it's a great all purpose bottle. However,  I would say of the three, it's probably my least favorite.
The Blender Bottle is great for things like pre-workout, protein shakes or things that you need to mix. However, for just an everyday water bottle, it falls relatively low on my list. The blender bottle isn't extremely expensive, they're literally 10 dollars and I can confidently say they're worth that.
Blender bottles are sufficiently sized, as I said, they're good for sports drinks, and they can be stylish with the different color options. They do have a stainless steel option as well, which is 10 dollars more, and if you're thinking about the Blender Bottle, I would recommend this option.
The Blender Bottle is difficult to wash and it's typically better to just toss it in the dishwasher, but who runs the dishwasher everyday? If you do, stop wasting water. These bottles eventually start to smell terrible, no matter what you do. I'm not sure if it's the plastic, or the small crevices in the lid, but eventually it's bad.
I would recommend this for an after gym protein shake or before gym pre-workout and that's about it. Definitely wash it as soon as you get the chance!!
---
Contigo: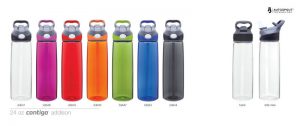 The Contigo water bottle is probably my second favorite of the three. Probably the best feature on this water bottle is the single press straw release.
Disclaimer: this can be really distracting if you're easily entertained, like myself. This water bottle is almost perfectly sized. You'll have a good amount of water and it's not too bulky for your purse, backpack or whatever you're carrying. However, if you carry something small, the lid has the clip feature, which makes it easy to clip on to any gym bag or backpack, etc.
You can get these water bottles in a bunch of different colors, which is awesome. The Contigo is relatively durable, but it is still plastic. You can expect to see some scratches and a dent here or there after you've used it for a while.
Some other things I wasn't necessarily a fan of were:
The amount of condensation this water bottle gives off  is excessive. In addition this bottle gets really noisy. If you want ice in your water, forget it. Anything this water bottle touches will be wet.
Also, I'm not exactly sure what happened with my straw, but eventually my water bottle would make this obnoxious whizzing sound every time I would drink off of it, which made for extremely awkward moments in a lot of classes… After a couple months of this, I grew tired of the sound and condensation and decided to upgrade.
---
Hydro Flask:
The Hydro Flask is amazing! I got my Hydro Flask about a month and a half ago and I swear by it. I carry it everywhere I go.
There are so many pros in favor of this water bottle it's hard to describe them all in one article.
One of the greatest things about the Hydro Flask is how cold it keeps my water. I can put ice in my water bottle at 7:30 in the morning and still have some ice left when I get home at 7:30 that night. My water is fresh and cold all day, no matter how many times I refill it.
And the best thing? It NEVER sweats! The Hydro Flask has several different sizes, lids, colors, etc… I personally have the larger one, like the one in this link. This one can be a little bulky, so if it's too much for you, its easy to downsize.
I see Hydro Flasks everywhere. I was extremely skeptical at first and didn't see understand the hype, until I caved and finally bought one.
The great thing about the Hydro Flask is that you'll never see the exact same water bottle as yours anywhere. If you have any stickers lying around that you absolutely love, but don't want to make your laptop look like a mess, deck out your Hydro Flask.
These things are so easy to personalize! If you end up getting sick of one of those stickers, they come off so easy and don't leave marks behind, so your water bottle still looks as good as new.
On top of being able to make them your own, they're extremely durable. I am so rough on this thing! I'm constantly dropping it or banging it against walls and it has no scratches or dents. All in all, 10/10 would recommend the Hydro Flask for your go-to water bottle. They can be a little pricey, but you'll never need another one and it is hands down the best water bottle you'll ever own. Definitely a Reddit BIFL worthy water bottle.
---
Conclusion:
All in all, each of these water bottles is great and I would recommend all three depending on your day-to-day life. However, as you can tell, my favorite is clearly the Hydro Flask. I really can't deny either, that the Contigo is a good companion and I used it for quite some time. If it weren't for discovering the Hydro Flask I would still be using it and loving it. Take your life and your habits into consideration and pick the one that's right for you.
As always, remember to share what you think about your favorite gym water bottle in the comments below. We always enjoy hearing a different perspective. Thanks for stopping by and I hope this helps with your future water bottle decisions.